https://youtu.be/Oe51Ztd2t4Q
Dans quelques jours c'est Halloween, pour l'occasion j'ai eu envie de créer une table rien que pour vous,  et surtout de vous montrer comment j'ai fait. Avec un petit budget, un peu de temps et beaucoup d'idées, il est possible de créer un joli décors !
Pour cette table, j'ai choisi une ambiance plutôt douce rien d'effrayant en fait, j'avais envie de travailler sur les couleurs de l'automne, du orange, du rouge, du jaune et du bois. Et surtout de créer moi-même les décors.
Je vous propose donc 4 tutos DIY, rien de très compliqué à réaliser, ça demande juste un peu de temps et de patience 🙂
Let's go pour les tutos !!
In a few days it's Halloween, for the opportunity I wanted to create a table there for you, and especially to show you how I did. With a small budget, a little time and a lot of ideas, it is possible to create a beautiful backdrops!
For this table, I chose a rather gentle atmosphere nothing scary actually, I wanted to work on the fall colors, orange, red, yellow and wood. And especially to create my own decor.
I therefore propose 4 DIY tutorials, nothing very complicated to achieve, it just takes a little time and patience 🙂
Let's go for tutorials !!
Lettres HALLOWEEN en papier mâché :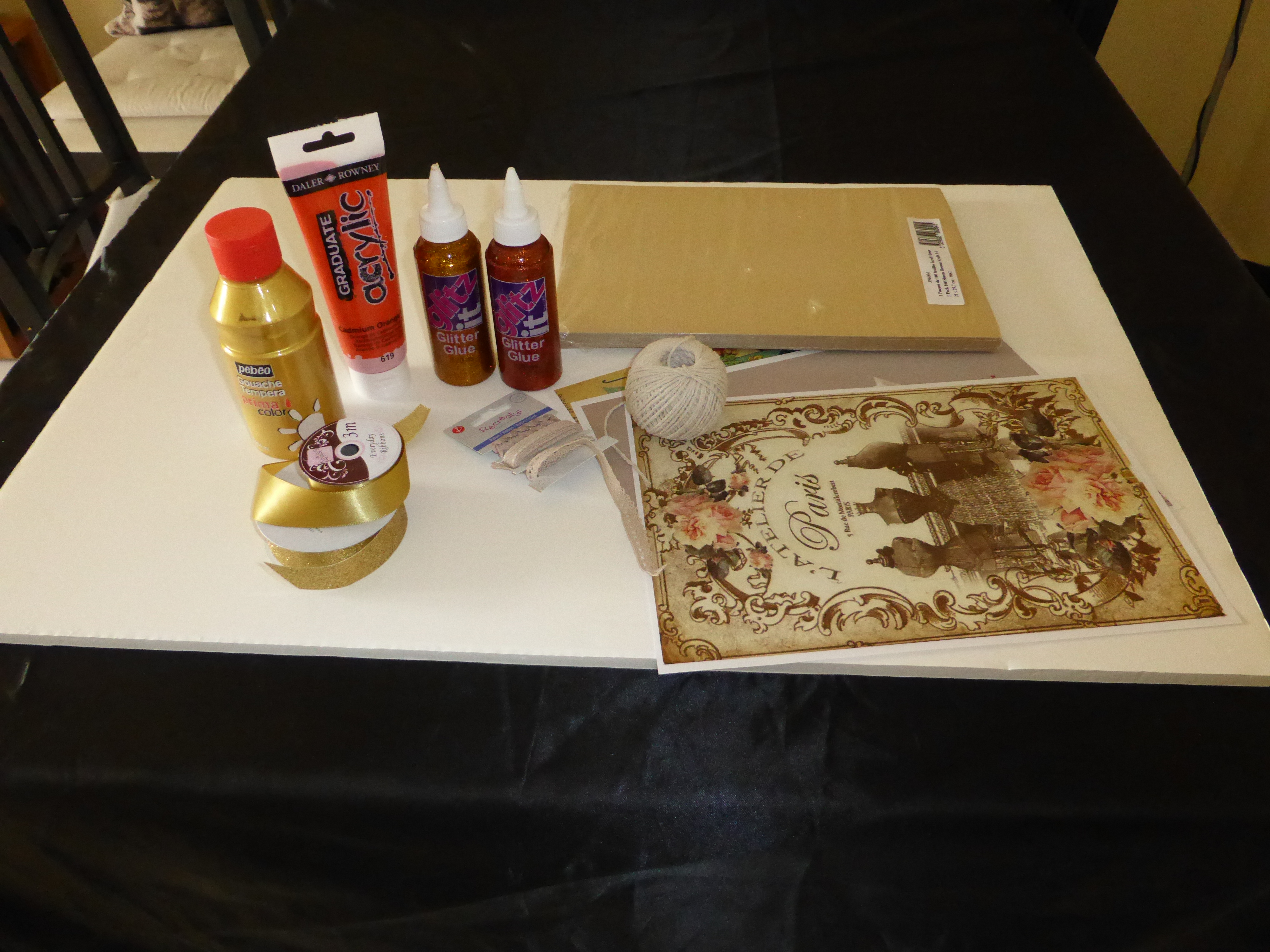 Pour ce DIY il vous faut :  Une plaque de papier carton plume (format raisin 50cm*70cm) épaisseur 1 cm.  Du papier imprimé façon scrap ( vous trouverez pleins d'images sur Pinterest Lancer la requête :  papier motif scrap et je pense que vous trouverez votre bonheur !). De la peinture couleur doré et orange, du ruban or ou rouge, du ruban tissu, et du glitter or et cuivre. Pour le fond des lettres j'ai utilisé du papier Kraft.
for this DIY you need: A paper plate foam board (size 50cm * 70cm grape) 1 cm thick. Printed so scrap paper (you find plenty of images on Pinterest Run Query: paper pattern scrap and I think you'll find it!). Paint color and golden orange, gold and red ribbon, fabric ribbon, glitter and gold and copper. In the bottom of the letters I used kraft paper.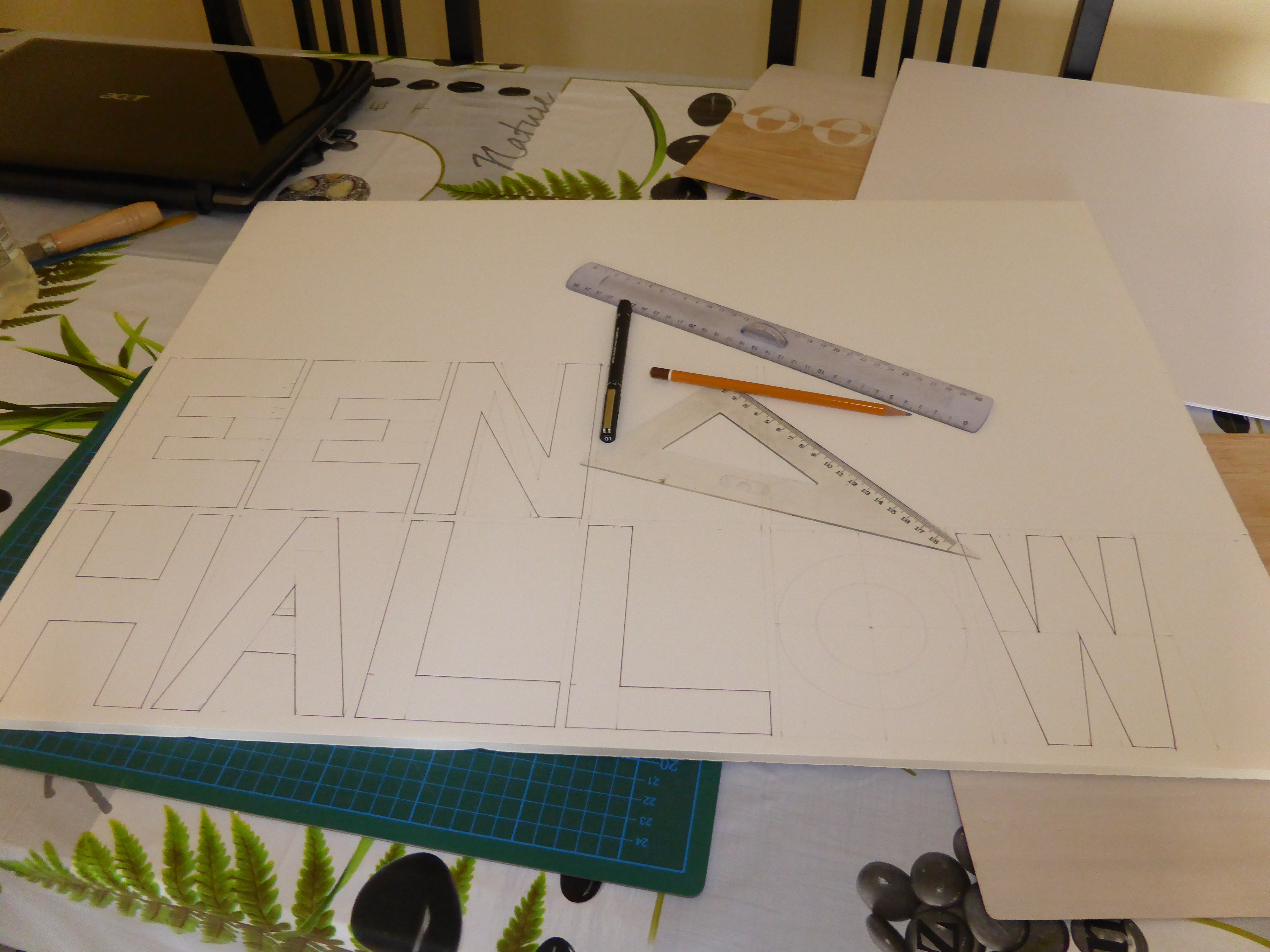 Dans un premier temps, on trace ses lettres sur le carton plume. J'ai fait des lettres de 14 cm sur 10 cm.
First, draw the letters on the cardboard pen. I have letters of 14 cm by 10 cm.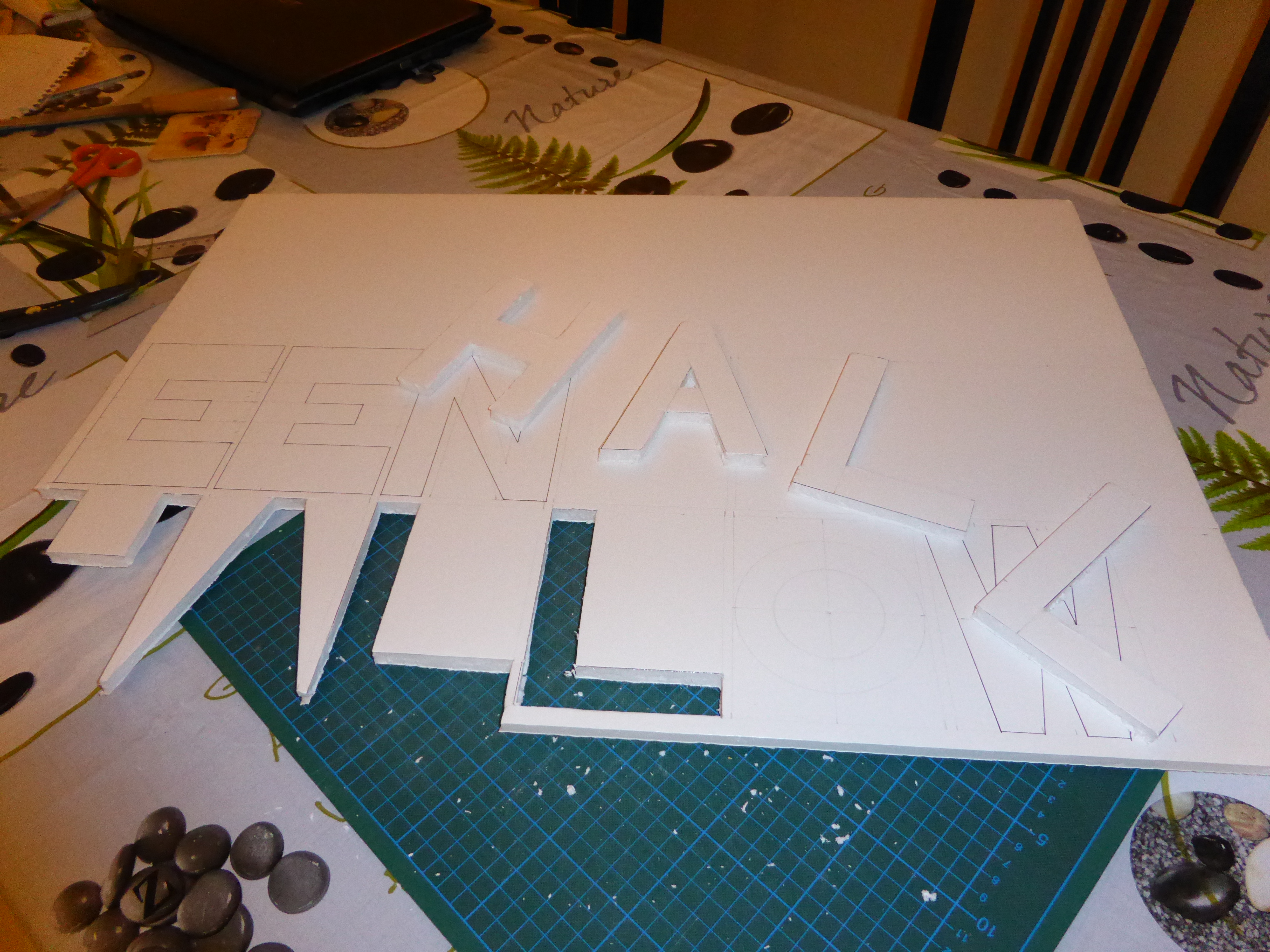 Puis on les découpe au cuter, le carton plume est assez facile à découper.
Then cut them with a cutter, cardboard pen is quite easy to cut.
J'ai utilisé la technique du papier mâché pour habiller les lettres, car le carton plume est irrégulier à la découpe et c'est pas beau du tout. Pas d'angoisse cependant c 'est très simple à faire, mais par contre il faut être patient, le temps de séchage est super long, comptez deux jours pour que les lettres sèchent.
Pour créer la colle, il faut de l'eau chaude, deux cuillères à soupe de farine et une bonne pincée de sel. J'y vais complètement au feeling pour le dosage, faites juste attention de ne pas trop mettre de farine pour ne pas avoir trop de grumeaux. Ensuite, c'est tout bête il faut tremper des bandes de papiers blanc dans votre colle et enrober vos lettres.
I used the technique of paper mache to dress the letters because the foam board to the cut is irregular and it is not nice at all. No fear, however it's very simple to do, but be patient against the drying time is super long, count two days so the letters dry.
To create the glue, you need hot water, two tablespoons of flour and a good pinch of salt. I'm completely by feel for dosing, just do careful not to put too much flour to not have too many lumps. Then it's stupid must dip strips of white glue and paper in your coat your letters.
Une fois les  lettres prêtent, c'est parti pour la décoration. Faites parler votre imagination et vos envies 🙂
Once the letters lend, it's gone for decoration. Let your imagination and your desires 🙂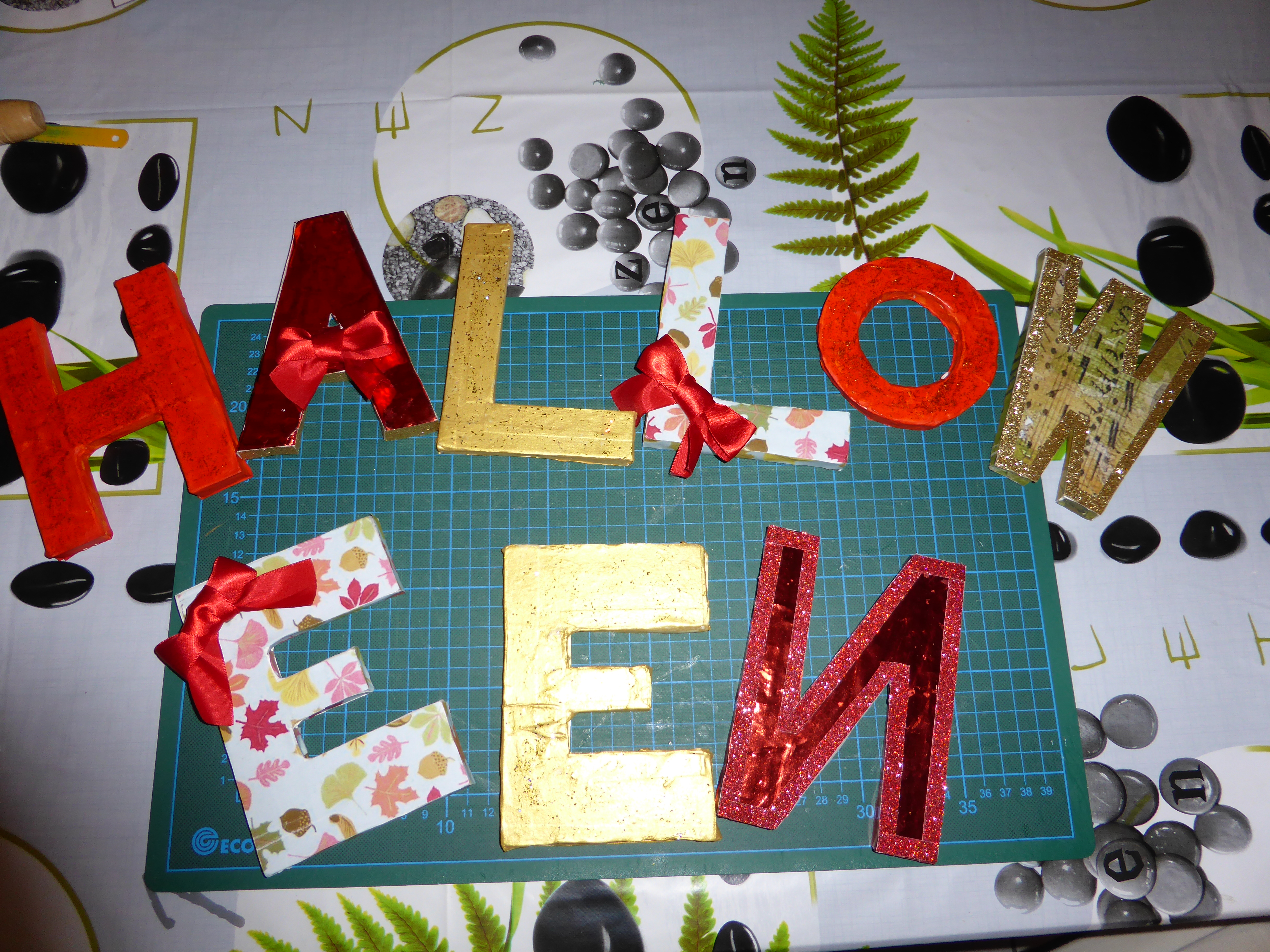 Les citrouilles à poser : 
Pour ce tuto, il vous faut : du papier carton plume format raisin (50cm*70cm) Épaisseur 0.5 cm. Des feuilles imprimé aux motifs scrap ( trouvé sur Pinterest). Du ruban or, du ruban tissu de la ficelle, et du glitter pailleté or ou cuivre.
For this tutorial, you need: paper cardboard pen grape size (50cm * 70cm) Thickness 0.5 cm. Printed sheets to scrap reasons (found on Pinterest). Of gold ribbon, fabric ribbon string, and glitter glittery gold or copper.
On trace comme on peut ses citrouilles 🙂 sur la carton plume au format A4.
One traces as can 🙂 pumpkins on foam board A4.
Puis on les découpent.
Then intersect.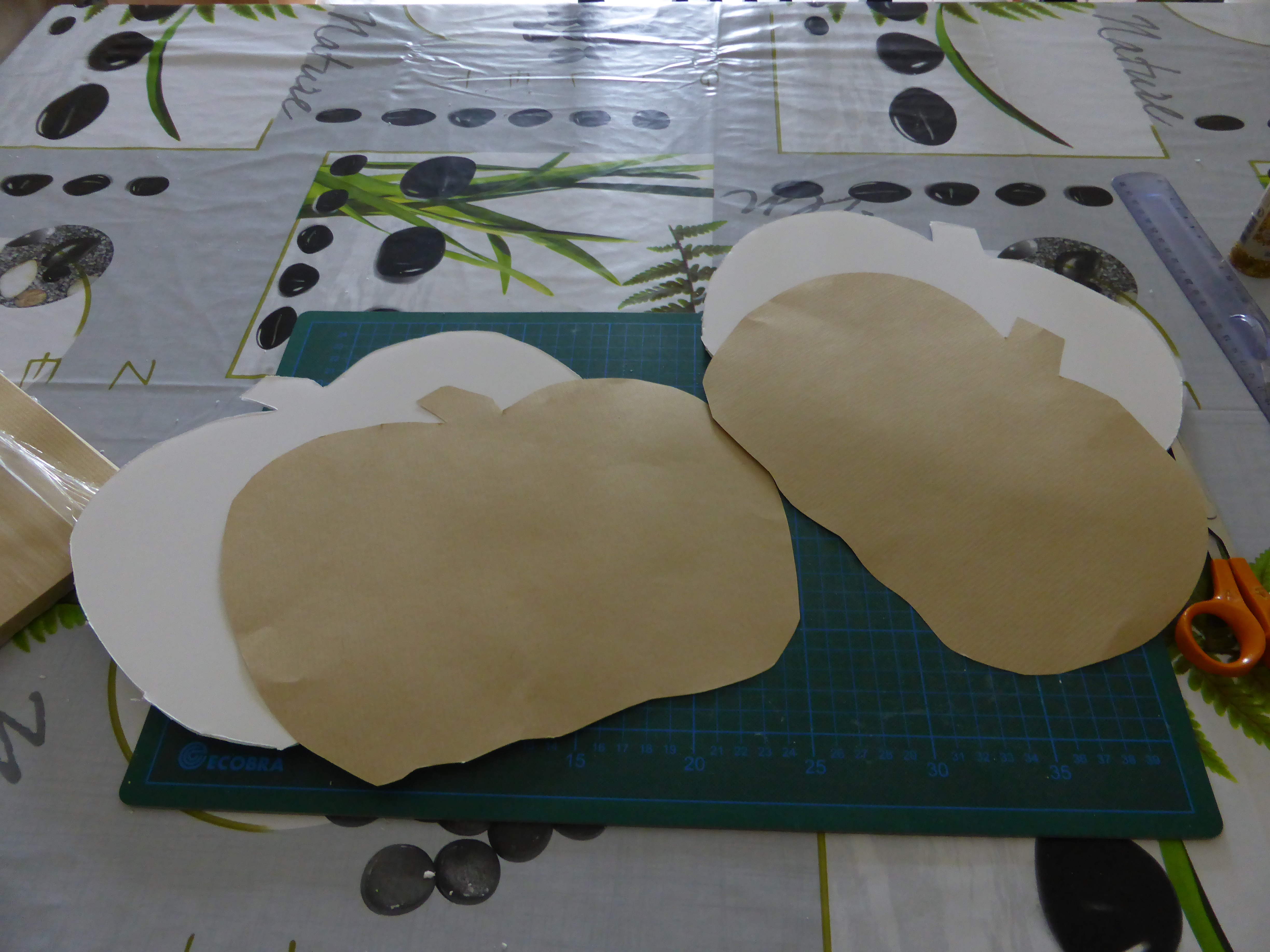 J'ai utilisé du papier Kraft pour habiller le derrière de mes citrouilles.
I used Kraft paper to dress the back of my pumpkins.
Ainsi que les côtés, car vraiment le carton plume peluche comme du polystyrène et c'est pas génial.
As the sides because really plush foam board such as polystyrene and it is not great.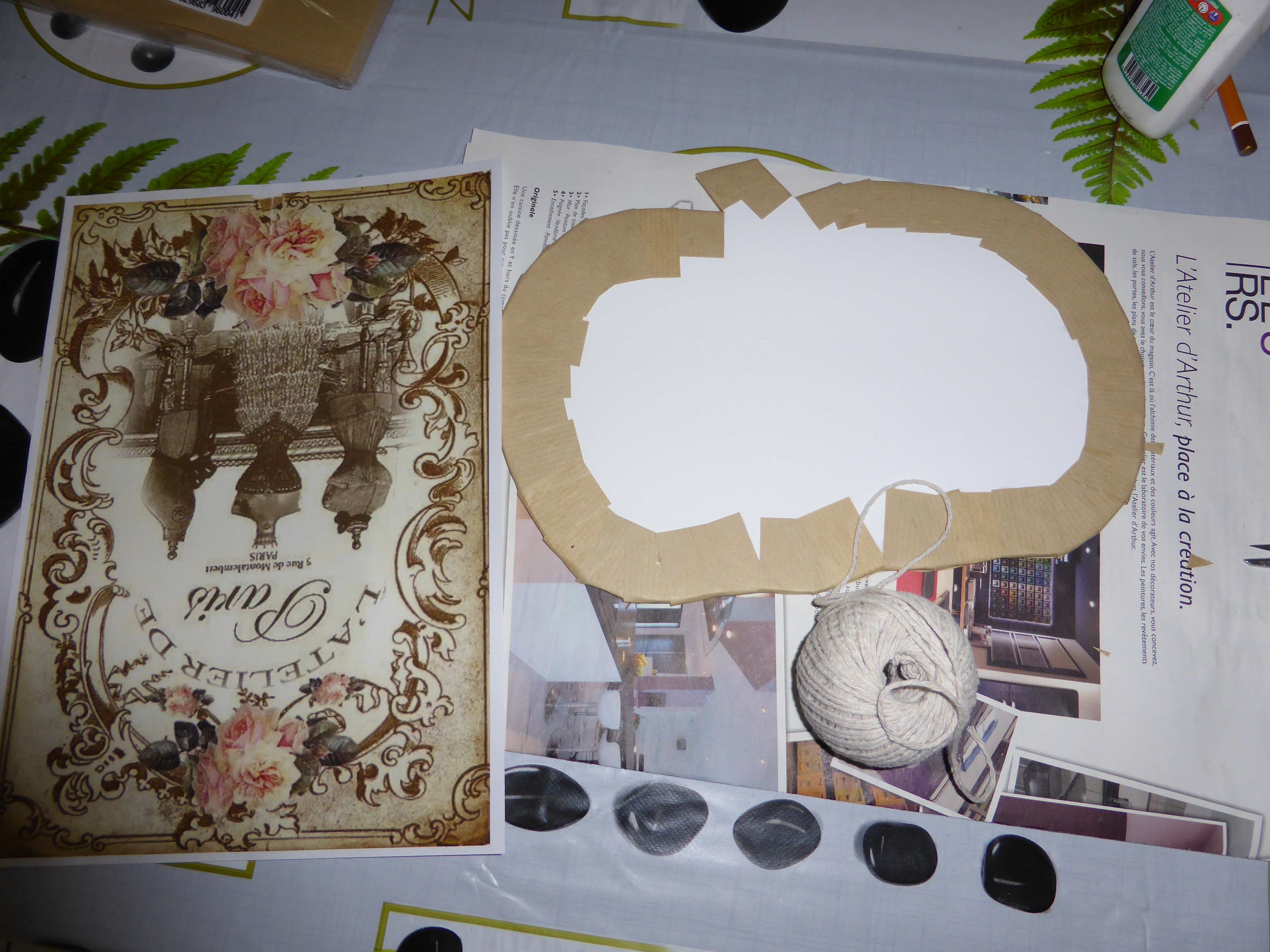 Ensuite on décore ses citrouilles comme on veut.
Then decorate pumpkins as you want.
Les confettis citrouilles : 
Tuto très simple à réaliser. Il vous faut du papier plume carton plume ou papier carton format raisin, épaisseur 0.20 cm. De la peinture et du glitter pailleté.
Tuto very simple to achieve. You need paper quill pen cardboard or paperboard grape size, thickness 0.20 cm. Paint and glitter glittery.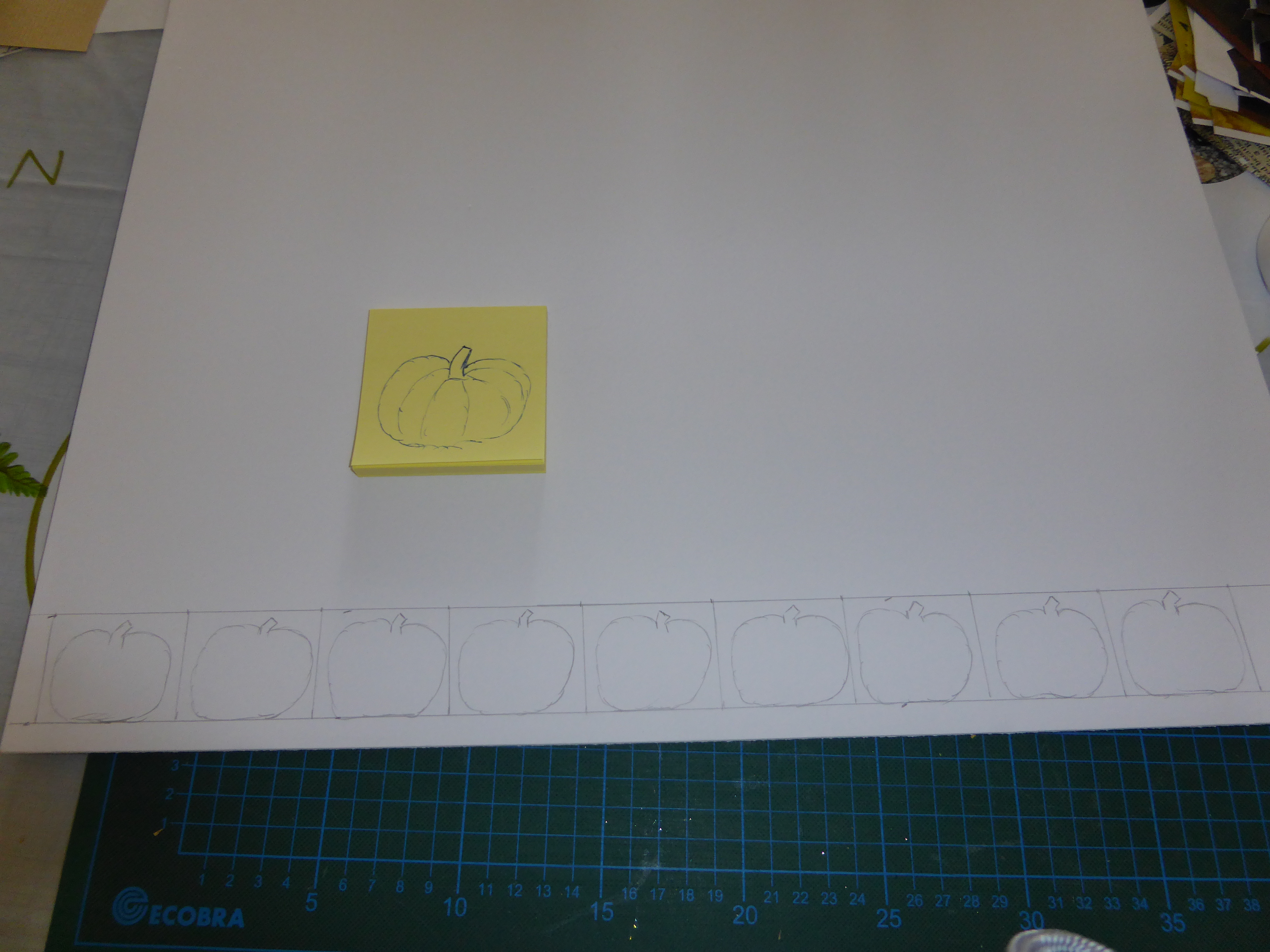 On trace ses petites citrouilles dans le carton, j'ai fait des citrouilles de 4cm *5cm.
It traces its small pumpkins in the box, I made pumpkin 4cm * 5cm.
Puis on les découpent.
Then intersect.
Et enfin, on les peints comme on veut.
Finally, they are painted as desired.
Les feuilles d'automne :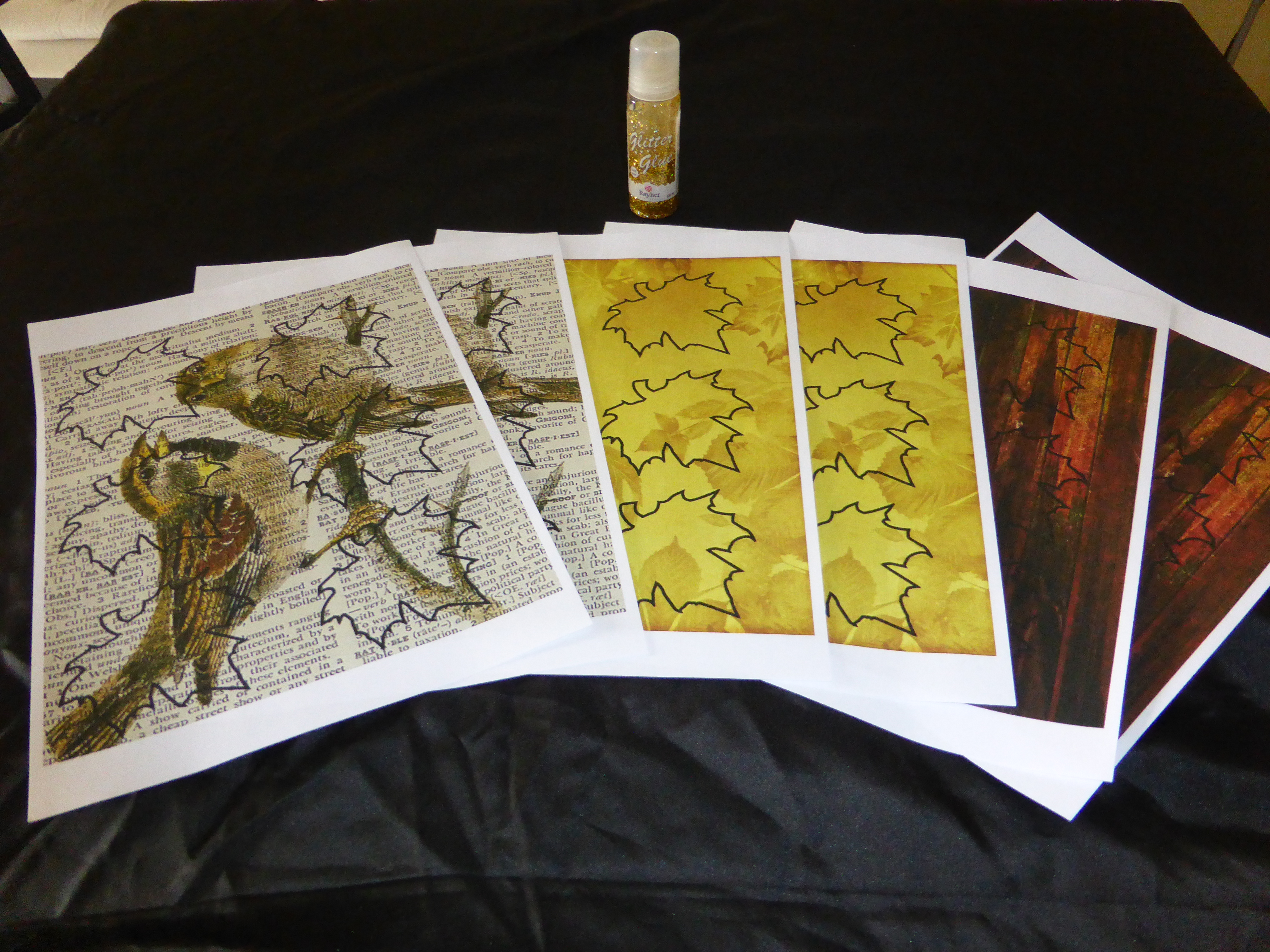 J'adore ce tuto hyper simple à réaliser pour un résultat vraiment top ! C'est très simple, il vous fait imprimer des feuilles sur du papiers a motifs, j'ai choisi des imprimés aux couleurs de l'automne. Trouvé sur Pinterest également. Et du glitter pailleté or.
I love this super simple tutorial to make for a really great result! It's very simple, it makes you print sheets on the patterned paper, I chose printed in the colors of autumn. Also found on Pinterest. And glitter glittery gold.
On découpe ses feuilles au ciseau.
Its leaves are cut with scissors.
Puis avec le glitter pailleté on vient faire le contour des feuilles.
Then with glitter sequined one comes to the outline of the leaves.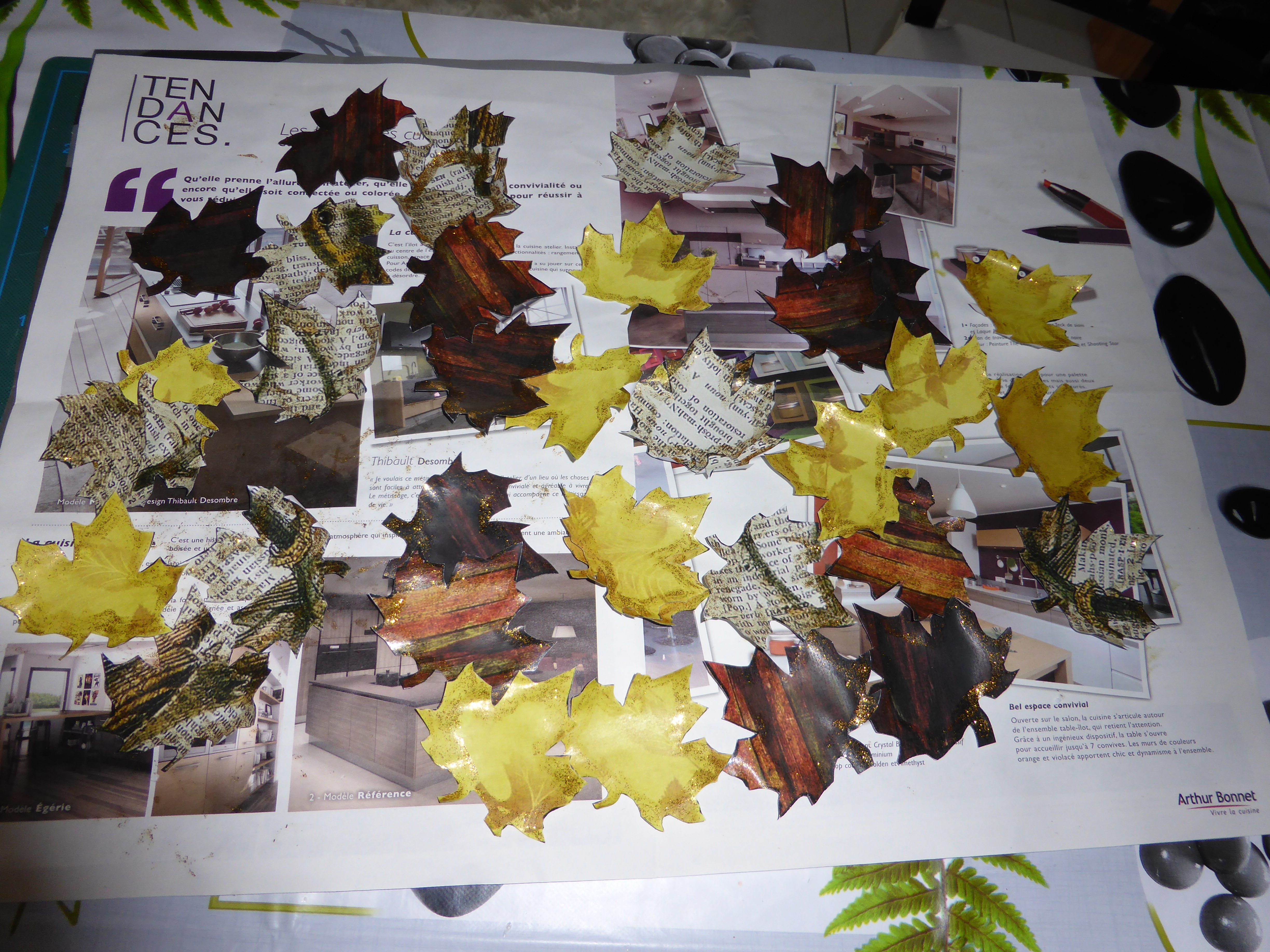 Une fois sec, les feuilles se recourbent un peu comme des vrais 🙂
Once dry, the leaves curl a bit as true 🙂
Le centre de table : 
Pour mon centre de table, j'ai ressorti de mes boîtes à déco, un vase en bois ainsi que deux bouquet de fausses fleurs. J'ai utilisé du ruban, pour faire des petits nœuds papillon que j'ai collé sur mon vase.
For my centerpiece, I emerged from my decorative boxes, wooden vase and two bouquet of fake flowers. I used tape to make small bowties that I stuck on my vase.
Le dressage de la table :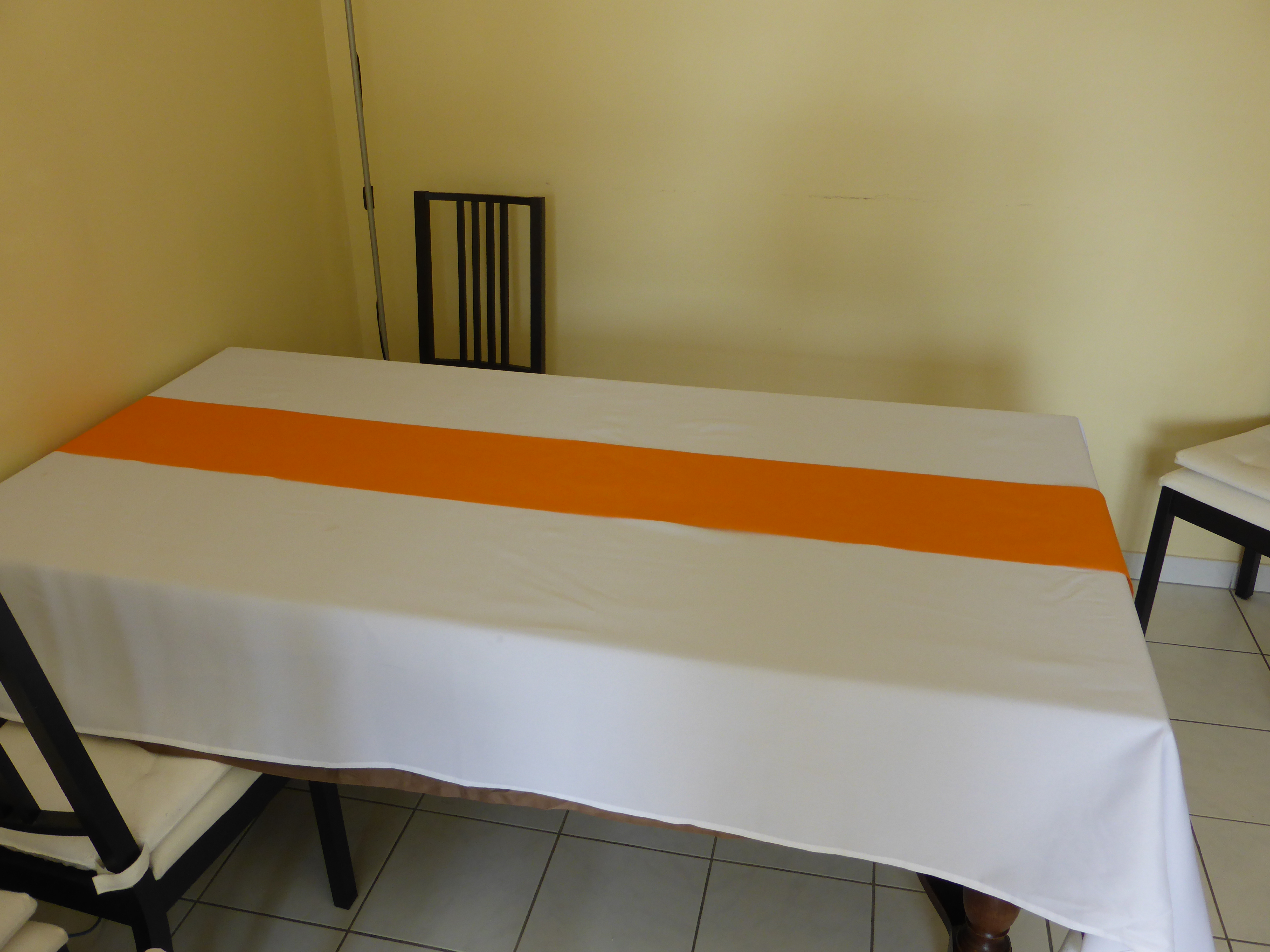 C'est parti pour le dressage, j'ai utilisé un chemin de table orange que j'ai positionné au centre de ma table.
It left for the dressing, I used an orange table runner I positioned at the center of my table.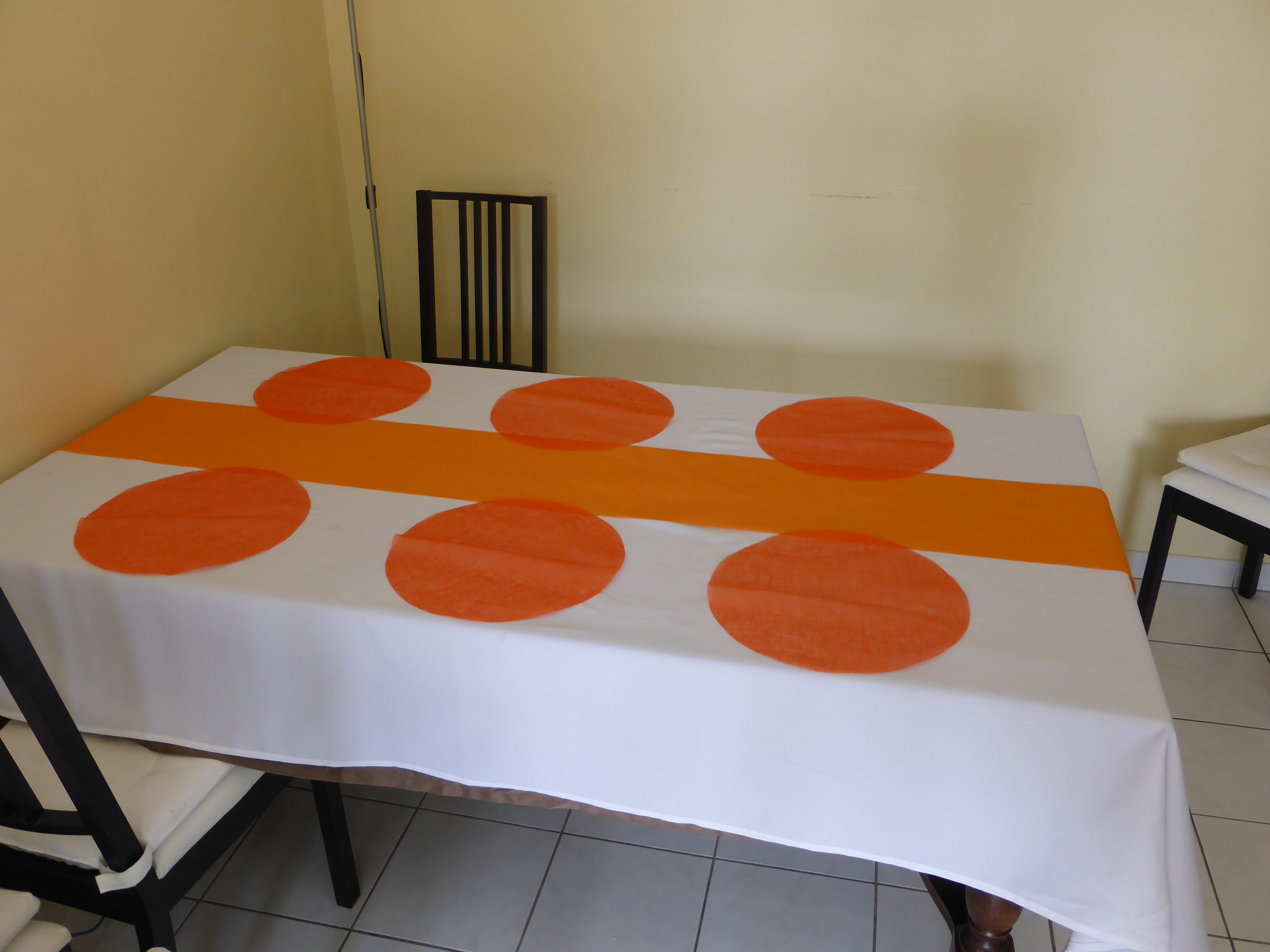 Puis j'ai posé, 6 set de table rond orange également.
Then I put, 6 orange round placemat well.
Ensuite j'ai posé mon vase en centre de table.
Then I put my vase centerpiece.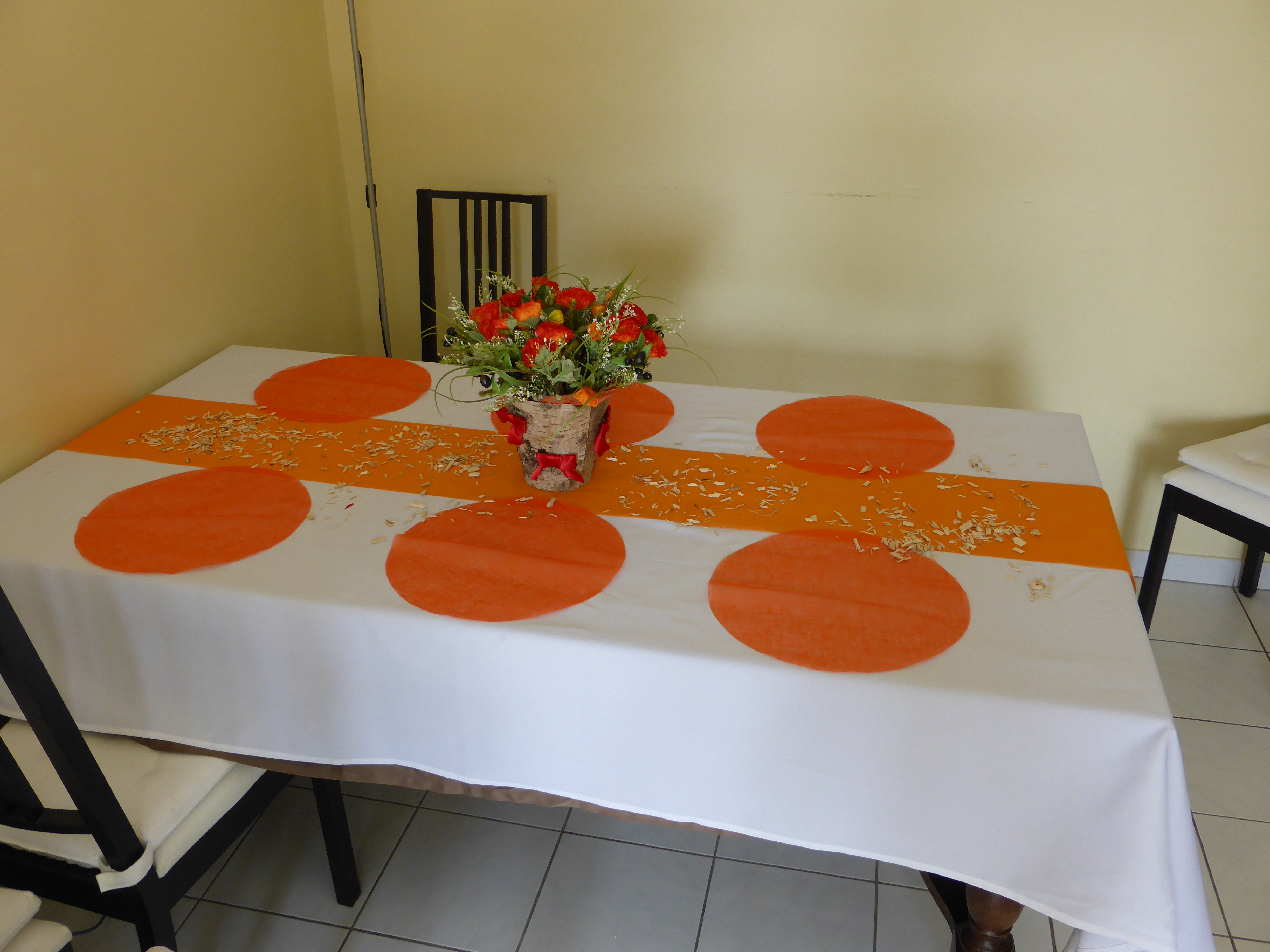 J'ai dispersé sur ma table des petits copeaux de bois, pour un effet naturel et champêtre.
I have scattered on my table small wood chips, for a natural, rustic effect.
A défaut de trouver des citrouilles au supermarché, j'ai mis des patissons et des petites courges le long du chemin de table.
Failing to find pumpkins at the supermarket, I put Patissons and small pumpkins along the table runner.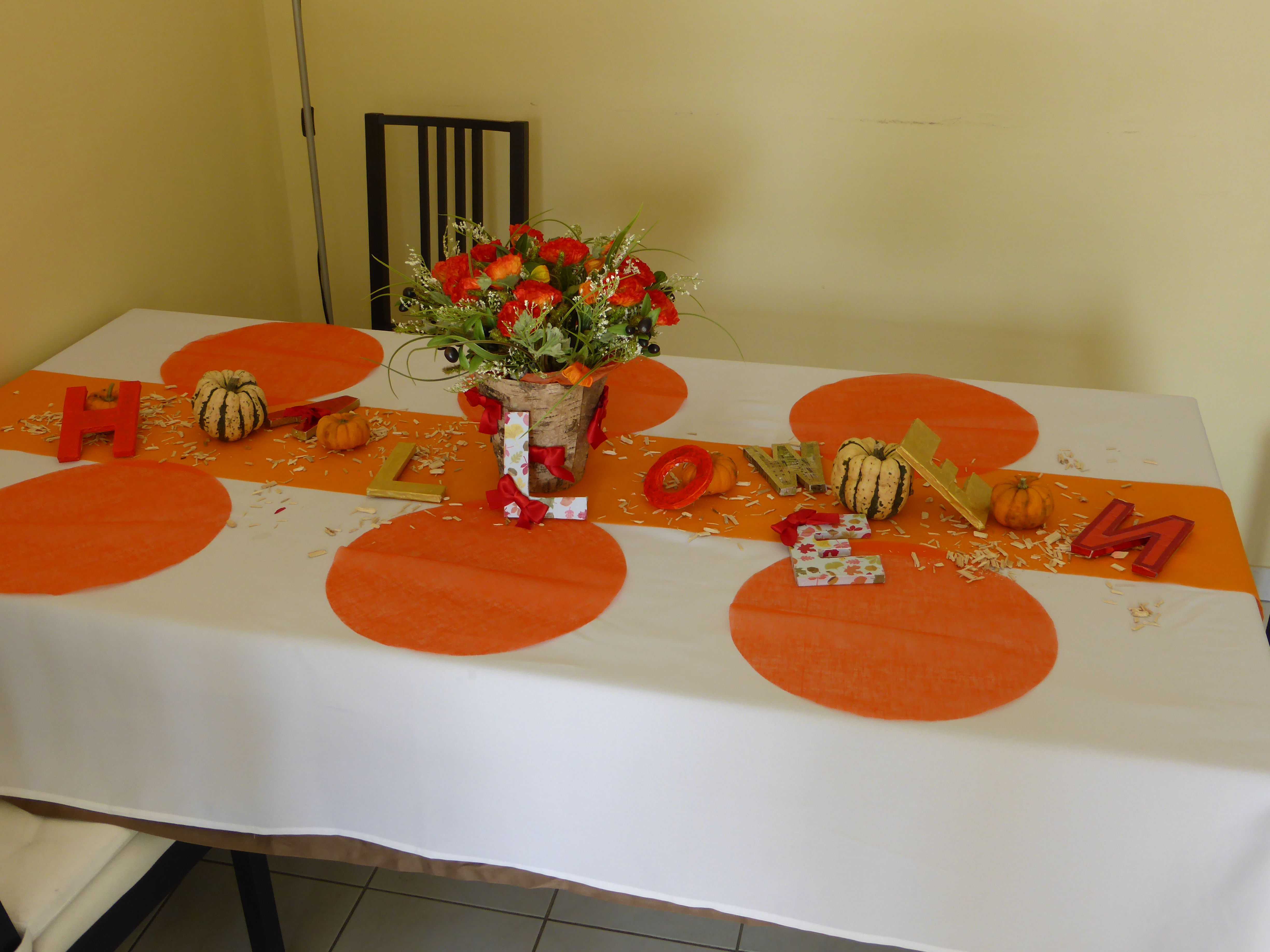 Ensuite j'ai posé mes lettres pour former le mot Halloween.
Then I put my letters to form the word Halloween.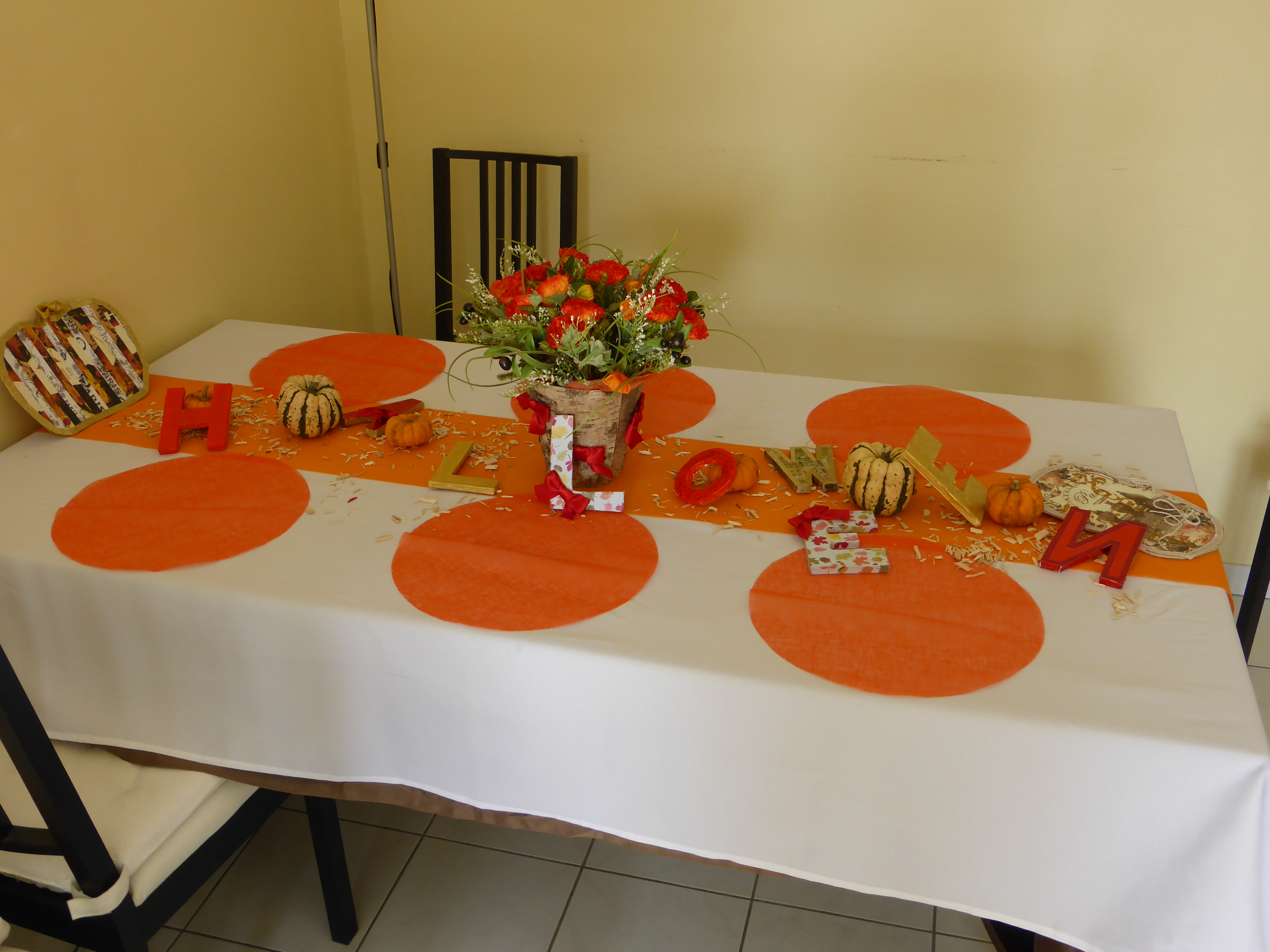 J'ai mis mes deux citrouilles en bout de table.
I put my two pumpkins head of the table.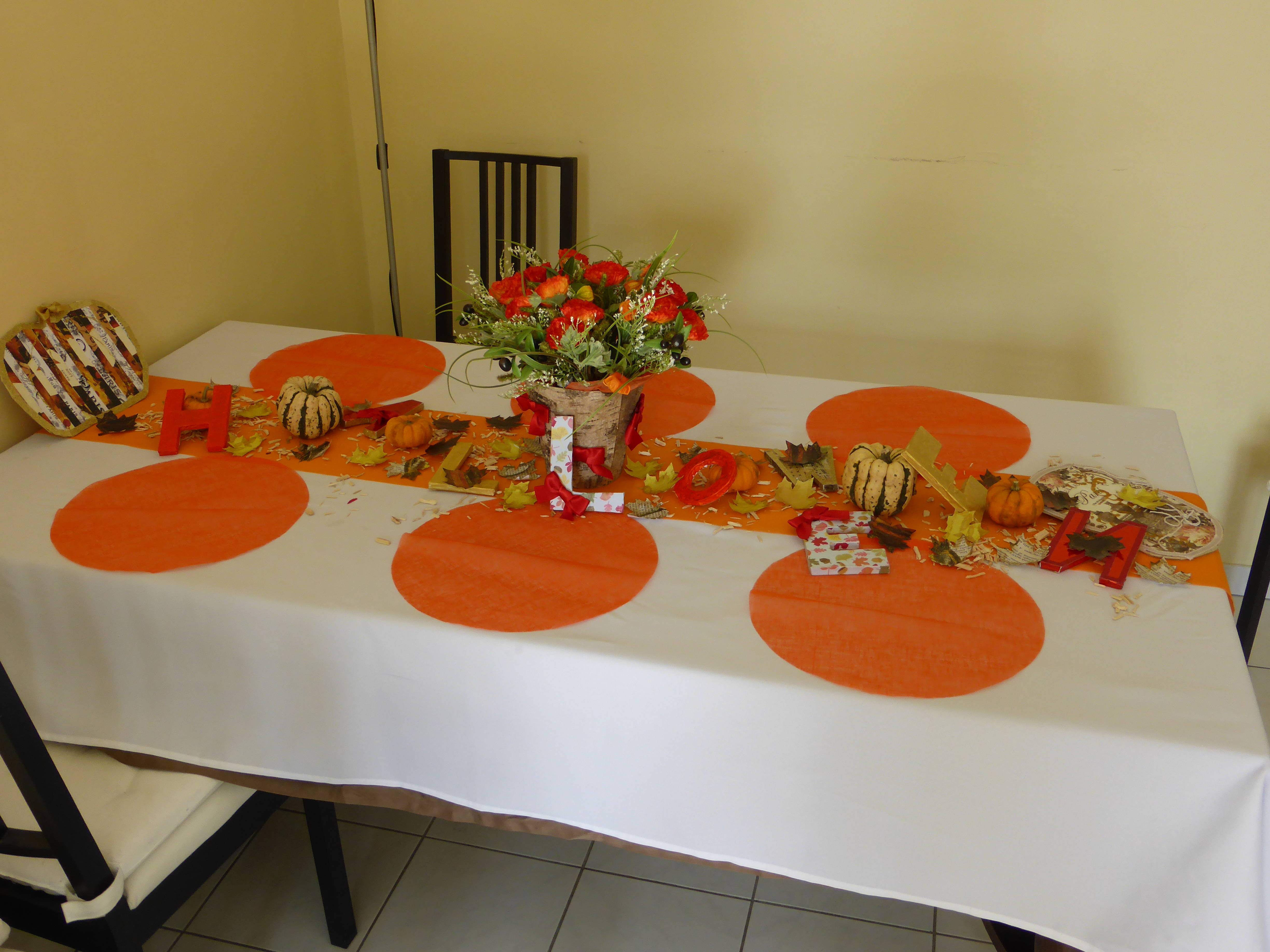 Puis mes feuilles d'automne que j'ai bien dispersé sur mon chemin de table.
Then my autumn leaves that I have scattered on my table runner.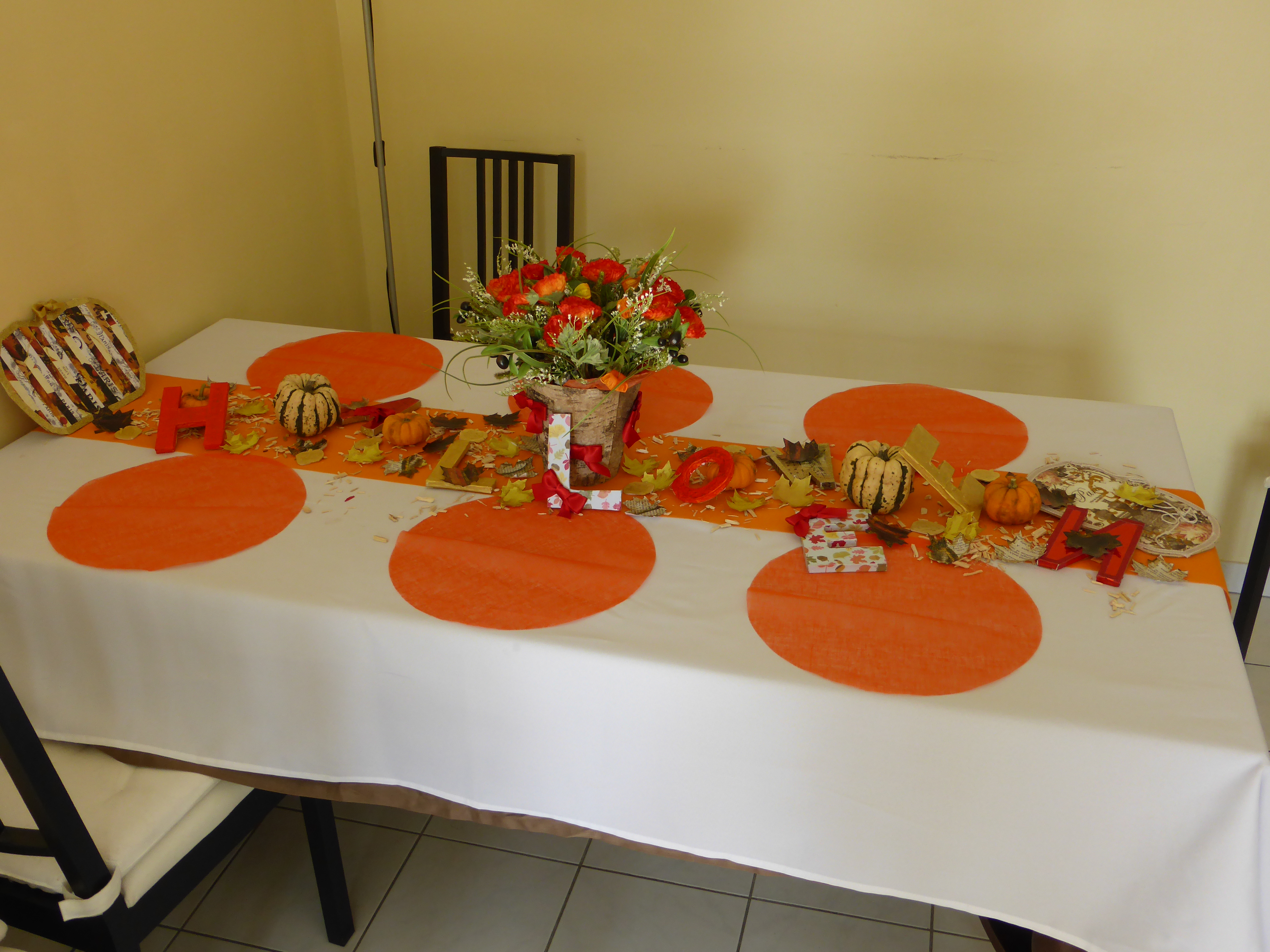 Ensuite, on ne voit pas 🙂 mais j'ai posé mes petits confettis en forme de citrouilles.
Then we do not see 🙂 but I put my little confetti in the shape of pumpkins.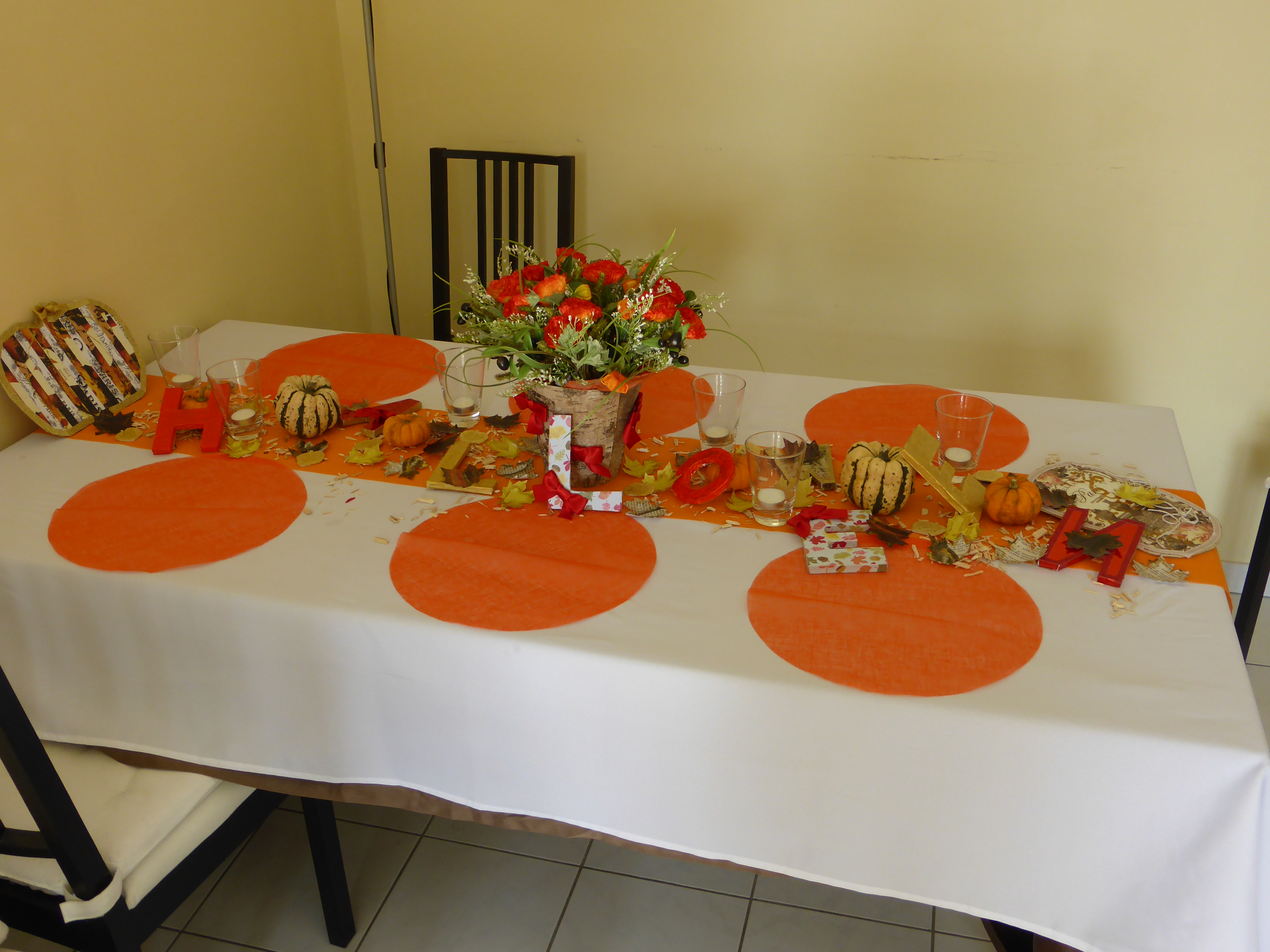 J'ai utilisé des verres a eaux en guise de photophores. Pour les bougies, j'ai opté pour des chauffes plats blanche.
I used a water glass as a tealight. For candles, I opted for toasting white dishes.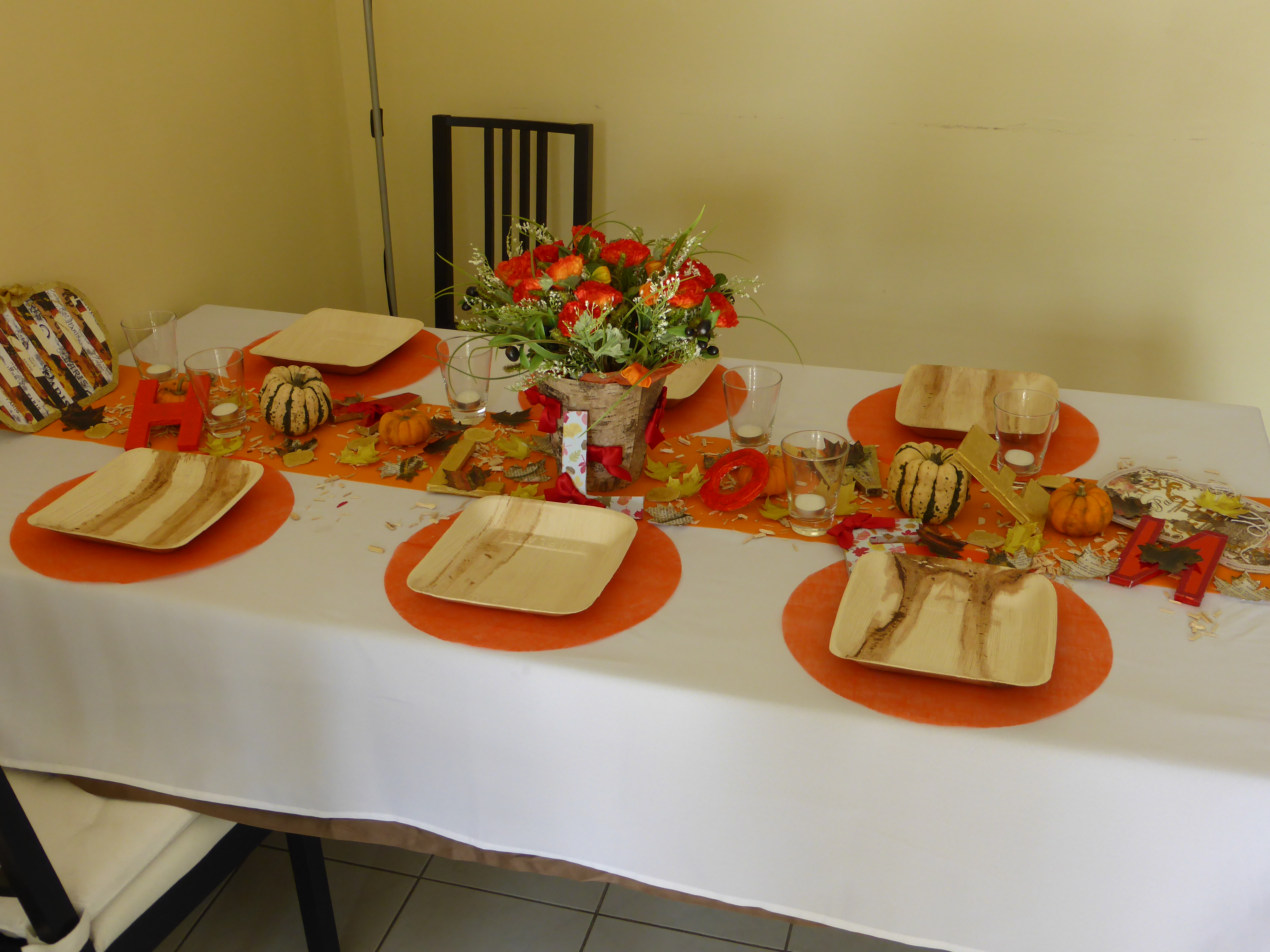 J'avais dans mes boîtes déco des assiettes bio en bois, je trouve pour le coup qu'elles vont bien pour cette table.
I had in my deco boxes bio wooden plates, for once I find they go well for this table.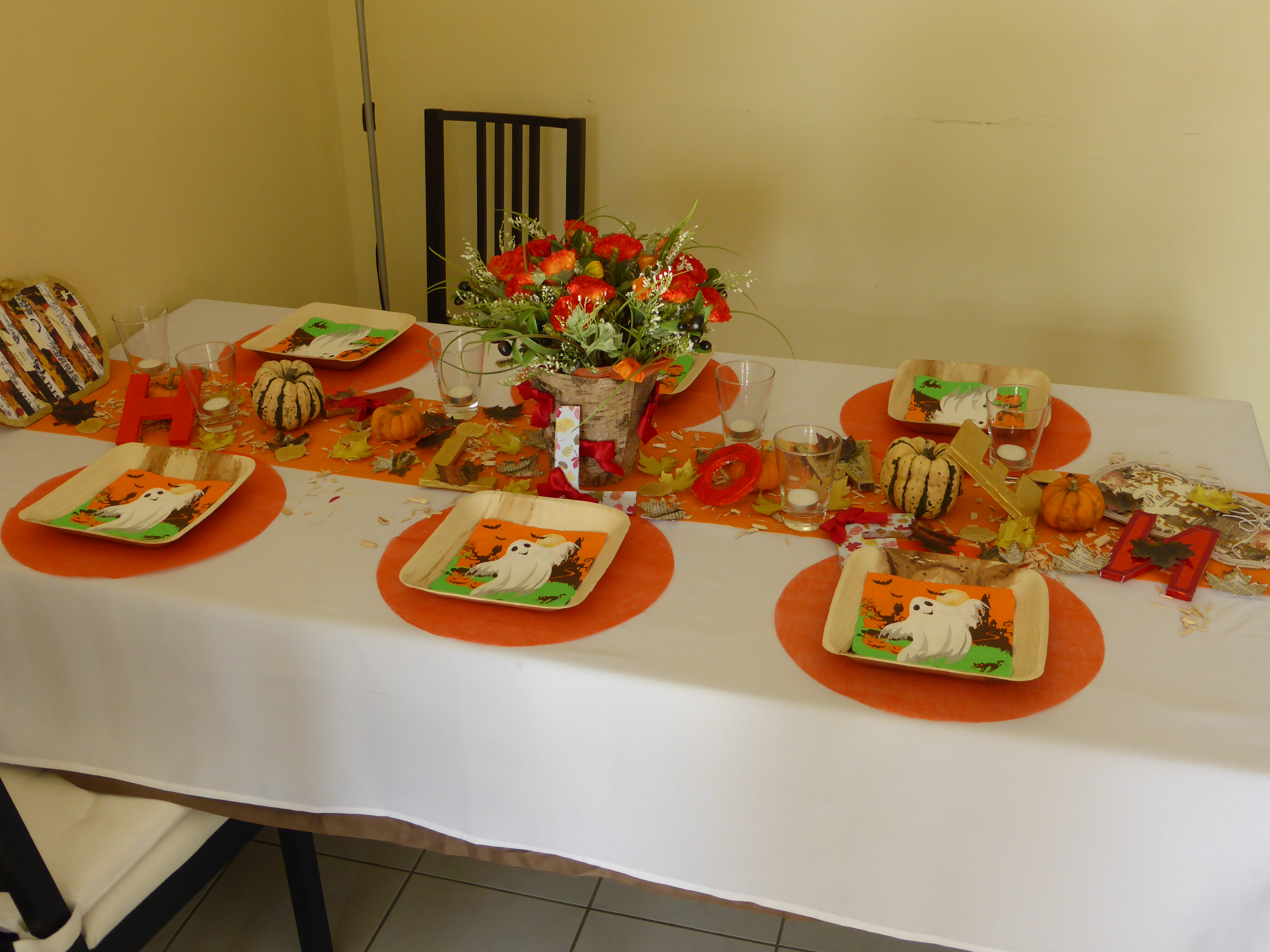 J'ai posé dans les assiettes, mes serviettes de table aux motifs halloween. Je n'ai pas fait de pliage de serviette délibérément, afin que les motifs fantômes soient visible.
I put the plates, napkins my reasons for halloween. I have not done napkin folding deliberately so that the ghosts are visible reasons.
On finit de dresser sa table avec les verres,
We end to draw up his table with glasses,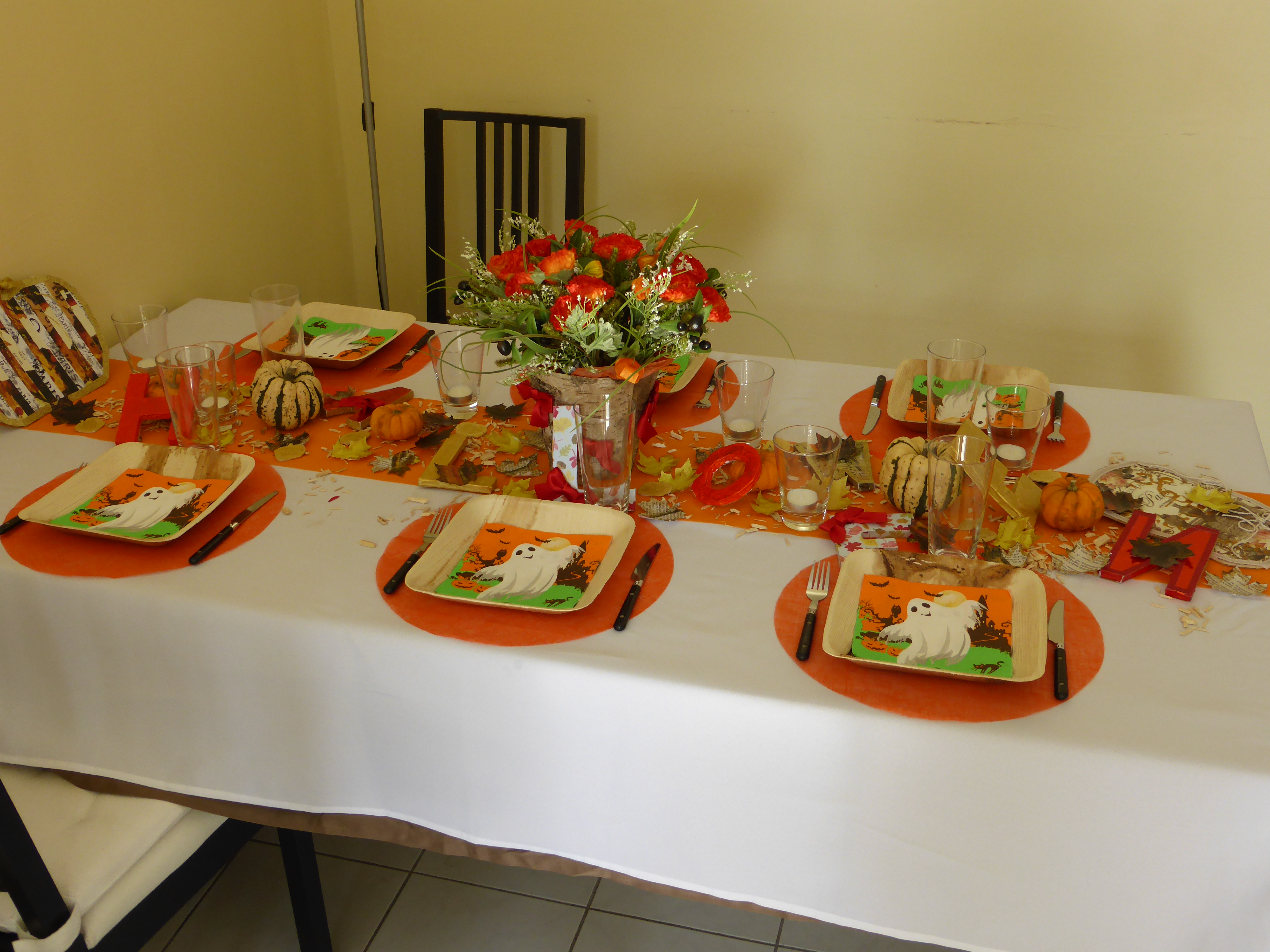 et les couverts 🙂
and cutlery 🙂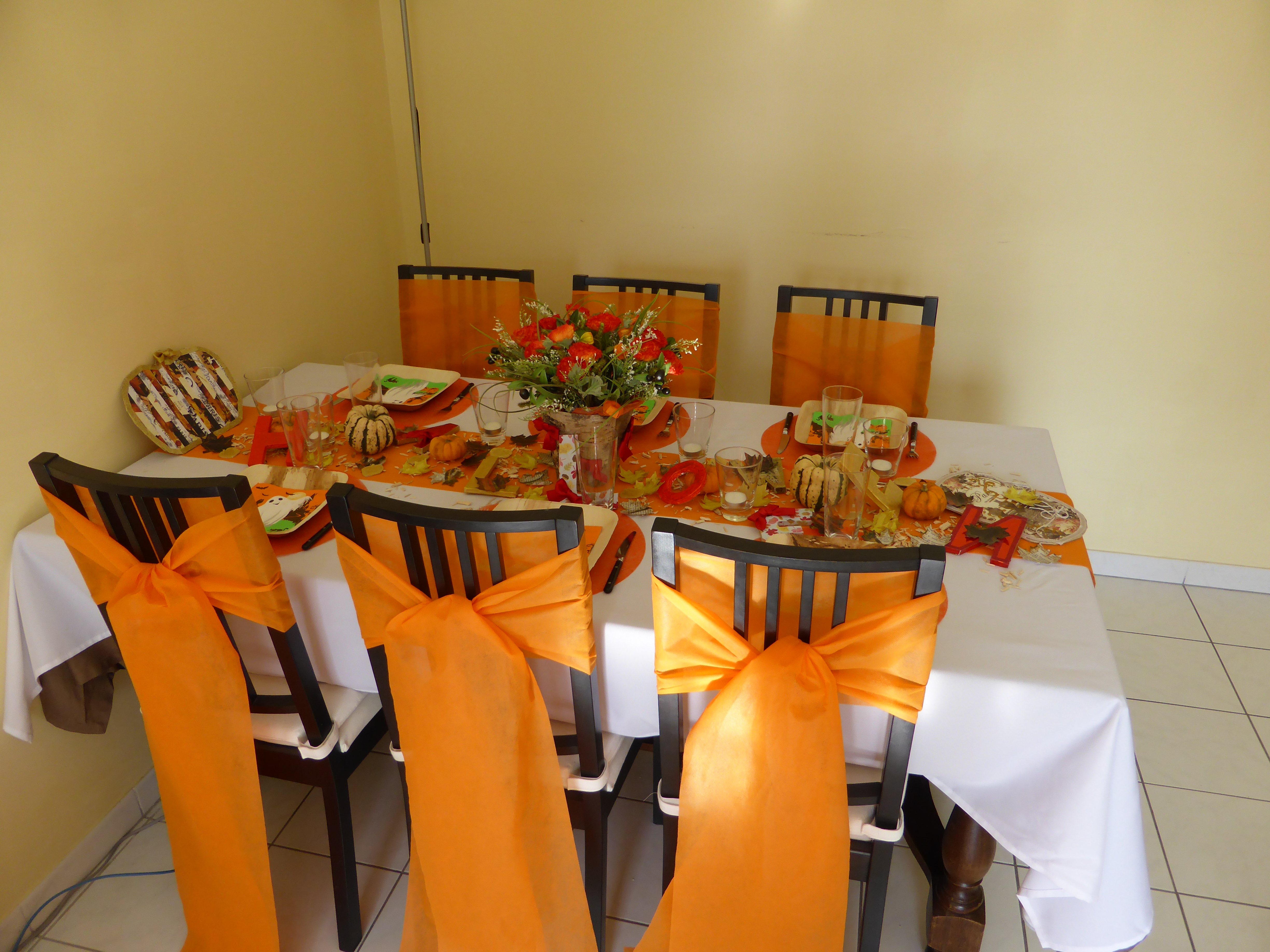 J'ai habillé mes chaises avec le reste du chemin de table.
Et voila ce tuto est terminé, j'espère qu'il vous plait et que vous pourrez le reproduire chez vous pour le soir d'Halloween. C'est la 1ere fois que j'écris un tuto de table, alors j'espère que c'est assez compréhensible.
Je vous laisse avec quelques photos de la table et je vous souhaite un HAPPY HALLOWEEN 🙂
I dress my chairs with the rest of the table runner.
And here this tutorial is over, I hope you like it and that you can play it at home for Halloween night. This is the first time I write a table tutorial, so hopefully it's pretty understandable.
I leave you with some pictures of the table and I wish you a HAPPY HALLOWEEN 🙂
Crédit images : Karen Garnier décoration d'intérieur.