Si vous avez un balcon où une terrasse chez vous, il est temps d'en profiter et de décorer votre extérieur aux couleurs de Noël.
Voici 10 idées pour créer un joli décor de fêtes et profiter de ces pièces en Hiver.
If you have a balcony or terrace at home, it's time to enjoy it and decorate your exterior to the colors of Christmas.
Here are 10 ideas to create a nice holiday decor and enjoy these pieces in Winter.
1 : Jouer avec les textiles
Pour donner un air cosy à votre balcon, pensez à mettre des coussins en laine où en tricot et des plaids en fausse fourrure sur vos fauteuils. Ces types de textiles vous plongeront dans une ambiance hivernale et ultra confortable.
1: Playing with textiles
To give a cozy look to your balcony, consider putting wool or knitted cushions and faux fur plaids on your chairs. These types of textiles will plunge you into a winter atmosphere and ultra comfortable.
2 : Poser un tapis de neige au sol
On voit beaucoup en été des tapis imitation herbe sur les balcons. Pour l'hiver optez pour les tapis blanc effet neige. Doux et moelleux, il s'accordera à merveille avec le reste.
2: Putting a carpet on the ground
We see a lot of summer grassy mats on the balconies. For winter opt for white snowflake carpet. Soft and fluffy, it will fit perfectly with the rest.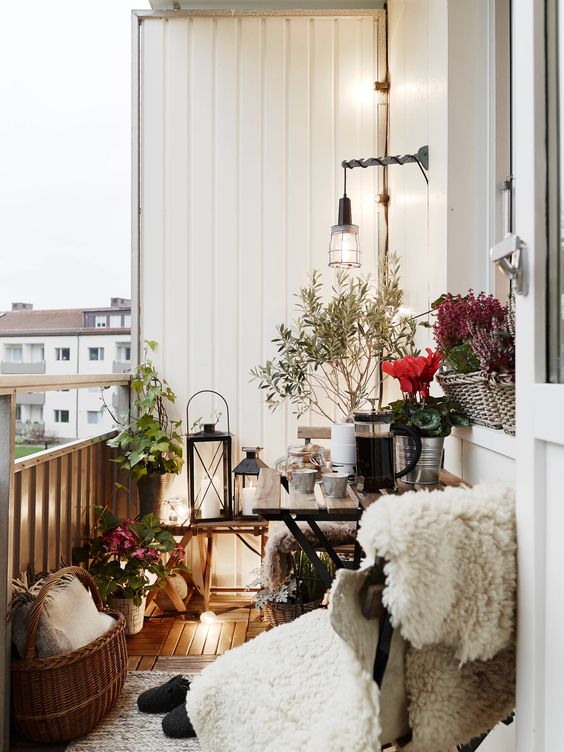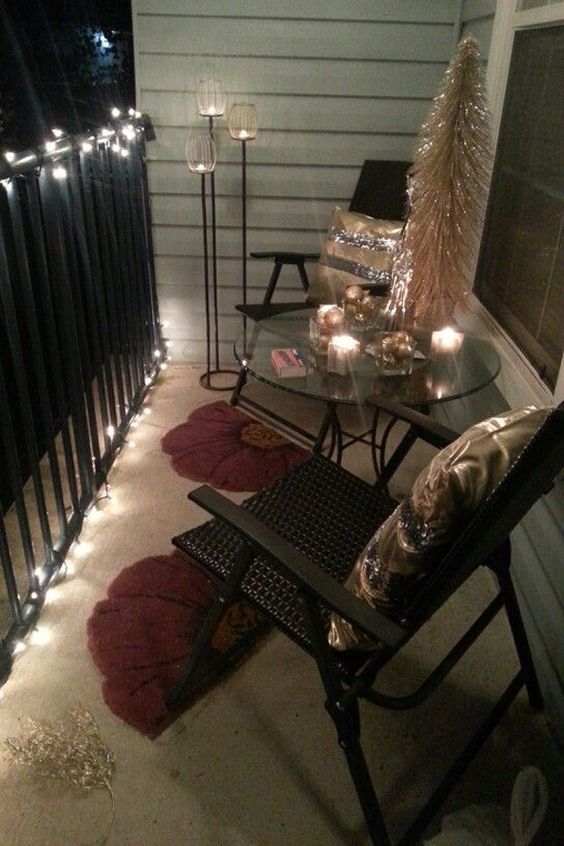 3 : Intégrer le motif écossais
Indémodable à Noël, le Tartan où motif écossais à le mérite de transmettre l'authentique esprit de Noël. Une simple touche de tartan dans votre déco suffira, utilisez un plaid a motifs où des noeuds de ruban dans les plantes.
3: Embed the Scottish pattern
Timeless at Christmas, the Tartan where Scottish pattern has the merit of conveying the authentic spirit of Christmas. A simple touch of tartan in your decor will suffice, use a patterned plaid where knots of ribbon in the plants.
4 : Habiller les rambardes
Ne laissez pas vos rambardes métalliques vides et sans âme vous griser le moral, et décorez les avec des branches de sapin, quelques boules colorées et des guirlandes lumineuse.
Effet Festif assuré !
4: Dressing the rails
Do not let your empty, soulless metal railings brighten your morale, and decorate them with fir tree branches, a few colored balls and luminous garlands.
Festive effect assured!
5 : Transformer vos pots et jardinières
Si vos pots sont vides car vos plantes n'ont pas survécu à la rudesse du froid hivernal. Plutôt que de les ranger dans un placard, réutilisez les, et placez des branches de sapins, des pommes de pins, quelques boules et des guirlandes.
5: Transform your pots and planters
If your pots are empty because your plants have not survived the harsh winter cold. Rather than storing them in a cupboard, reuse them, and place branches of pine trees, pine apples, a few balls and garlands.
6 : Fabriquer une couronne de pin
Original et simple à réaliser, utilisez des pommes de pins et confectionnez une jolie couronne que vous pourrez accrocher sur votre balcon. Pour un effet encore plus festif, vous pouvez vaporiser votre couronne avec de la peinture doré où argenté.
6: Making a pine wreath
Original and simple to make, use pineapples and make a nice crown that you can hang on your balcony. For an even more festive effect, you can spray your crown with gilt or silver paint.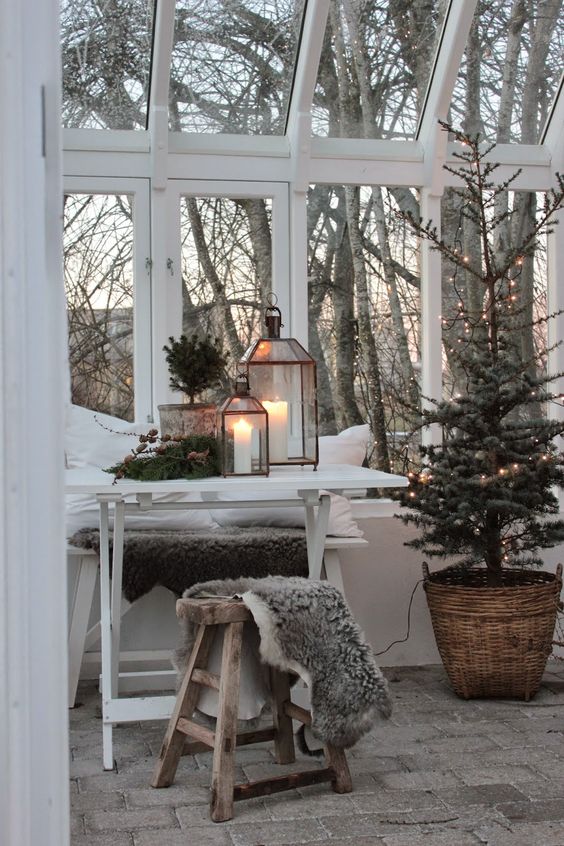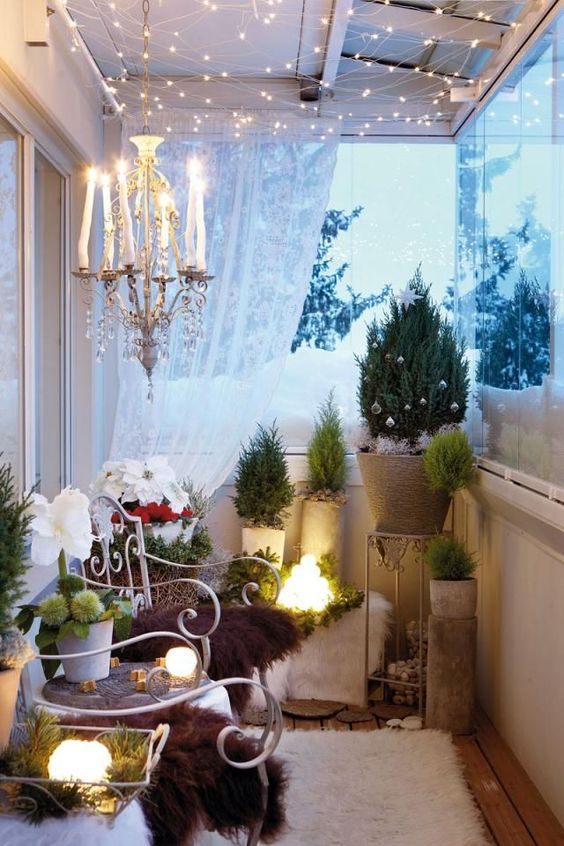 7 : Installer des vrais bûches de bois
Et oui ! Même si vous n'avez pas de cheminée où poêle à bois chez vous, si vous voulez créer un joli décor sur votre balcon posez quelques bûches de bois bien empilée dans un coin.
7: Installing real wood logs
And yes ! Even if you do not have a fireplace or wood burning stove in your home, if you want to create a nice decor on your balcony lay a few logs of wood stacked well in a corner.
8 : Accrocher des guirlandes de décorations en bois
S'il vous reste quelques guirlandes de déco en bois vous pouvez toujours les accrocher dehors. L'effet récup du bois témoigne d'un esprit vintage de Noël.
8: Hang garlands of wooden decorations
If you still have some decorative wooden garlands you can always hang them out. The reclaimed wood effect testifies to a vintage spirit of Christmas.
9 : Créer une ambiance lumineuse avec des lanternes et des bougies
C'est la partie la plus importante de votre décor. Pour un effet réussi soignez votre ambiance lumineuse. Poser plusieurs lanternes au sol avec des bougies et accrochez des guirlanes lumineuse. Le soir venu votre balcon s'illuminera et la magie de Noël s'installera.
9: Create a luminous atmosphere with lanterns and candles
This is the most important part of your decor. For a successful effect look after your bright ambience. Lay several lanterns on the floor with candles and hang bright light. At night your balcony will light up and the magic of Christmas will settle.
10 : Installer un fauteuil à bascule en bois rouge
Je pense que tout le monde rêve du vieux rocking chair sur son balcon ! Pour finaliser votre ambiance, chinez un vieux fauteuil à bascule en bois que vous pourrez retaper en le peignant en rouge par exemple. Poser des coussins en laine et un plaid en tartan et le tour est joué !
10: Installing a red wooden rocking chair
I think everyone dreams of the old rocking chair on his balcony! To finalize your ambience, chinez an old wooden rocking armchair that you can retype by painting it in red for example. Put on wool cushions and a tartan plaid and you're done!
Crédits images : Pinterest
Karen Garnier Décoration d'intérieur